ELDER PASSAGE WILDERNESS QUEST

This initiatory experience will take us into the sacred Inyo Mountains beyond the eastern Sierras and is an opportunity for women age 50 and older to explore what it means to become an elder in the world at this time. Informed by the wisdom of nature, we will enter the initiatory passage into this next stage of life. In addition to the traditional practices of solitude, fasting and exposure to the natural world we will sit in our council of elders, sing, dance, journal, drum, walk and create ceremony together. By honing our abilities to listen to the earth, ourselves and each other, we will begin to forge our own unique paths to claiming our eldership in our homes, communities and places of work.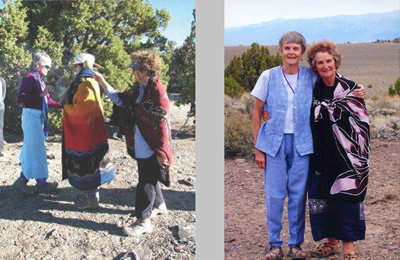 Participants enter a careful preparation process upon signing up that includes written materials, a phone consult, and suggested soul preparation activities. All food will be provided except the final celebratory dinner in town. Participants provide all their own camping gear - list provided. No prior camping experience is required. Hiking and other movement is not strenuous, though base camp is located at 9,000 feet elevation. If in doubt about your physical abilities for this quest, please feel free to call either Anne or Ann.
After 7 wonderful years of offering the elderquest, Anne Stine and Ann Linnea will no longer be leading this trip. They will continue to be offering their questing programs to their communities, locally, nationally and internationally. Anne Stine will be offering something for elders in her local community of southern Oregon, so please check back here on a regular basis to see what is next. You can also contact Anne at her email address for more information.
Sponsored by Wilderness Rites, LLC in partnership with Inyo National Forest